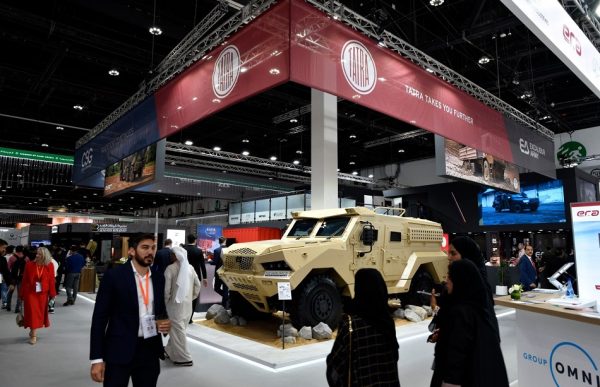 THE LARGEST CZECH EXHIBITION OF CSG AT THE JUBILEE 30TH EDITION OF THE IDEX TRADE FAIR IN ABU DHABI WAS BESIEGED BY VISITORS. From February 20 to 24, the IDEX 2023 fair, one of the most prestigious defense technology and engineering exhibitions in the world, took place in the United Arab Emirates.
Excalibur International, Excalibur Army, Eldis, Retia, MSM Group and Tatra Export representing the Tatra Trucks automobile company came to Abu Dhabi to offer their products and services to potential customers on behalf of the Czechoslovak Group (CSG) holding. For the first time ever, the CSG exhibition was also supported by a presentation in virtual reality. At the fair, Excalibur Army also announced a very important contract with a local partner, worth up to 77 million euros.
The IDEX trade fair takes place every two years in Abu Dhabi and this year celebrated its 30th anniversary. Over time, it has become one of the most important events of the defence and security industry globally.
"The Middle East is very strong and therefore interesting markets for us, where Czech companies have traditionally established themselves. That's why our holding company has regularly participated in the IDEX trade fair for several years now because it's an ideal place for meeting existing partners and looking for new customers," said Director of Corporate Relations, Communications and Marketing Radim Ochvat, adding that CSG holding companies and Tatra Trucks has already won contracts in this area in the past.
"This year, for the very first time, our companies presented themselves not only in a real exhibition right on the exhibition area, but also in virtual reality, in which an interactive 3D model of our stand was created," added Radim Ochvat.
The joint stand of CSG and Tatra Trucks was the largest of the Czech exhibitors and one of the largest among European companies. Very interesting new developments on it, so far in the form of models and audio-visual presentations, were revealed by Excalibur International (EI).
"The first of them was the medium-range air defence system, the elements of which are installed on Tatra chassis. The second innovation was a long-range surveillance radar intended for use in air defence systems, which is being developed in cooperation between EI and other companies from the CSG Aerospace division. Both projects have already a specific customer, which is the Indonesian military," explained CSG press spokesman Andrej Čírtek.
Likewise, Excalibur Army (EA) presented its products through models, presentations, and software augmented reality. These were armoured vehicles, such as the Patriot II vehicle, which was also displayed at the stand in a real version, artillery, and rocket systems DANA M2, Dita and Morana or RM-70 Vampire as well as engineering vehicles Treva-30 and AM-70EX. Above all, however, EA announced the making of a very important contract at the fair.
"EA signed a contract with Resource Industry from the United Arab Emirates worth up to 77 million euros for the production and supply of vehicles on Tatra chassis. The contract will allow Resource Industries to manufacture and supply up to two hundred vehicles with Tatra chassis for military and civilian purposes in its home market in the United Arab Emirates. As part of the contract, EA will also supply Treva 30 recovery and evacuation vehicles," informed Čírtek.
The contract follows a previous order for Patriot II armoured vehicles, which EA also produced for Resource Industry. In addition, the owner of the Czechoslovak Group holding, Michal Strnad, signed a memorandum of understanding with representatives of this company from Abu Dhabi directly at the fair, which will become the basis for further close cooperation. Czech Prime Minister Petr Fiala, who personally visited the IDEX 2023 fair, viewed the exhibition of Czech exhibitors and the stands of CSG and Tatra Trucks.
On that occasion, he said: "The interest of the United Arab Emirates in cooperation, including cooperation in the defence industry, is great. We have an open door here, so it's up to us all to take advantage of it together."
Tatra Export brought visitors and potential customers closer to the production lines of the Tatra Trucks automobile company intended for military purposes, which serve in a number of armed forces around the world, including the Middle East. They got to know the characteristics and performances of the Tatra Force, Tatra Tactic and Tatra Phoenix model lines through virtual reality.
As one of the possibilities of using the Tatra chassis, the before mentioned Patriot II armoured car was demonstrated at the joint CSG stand. Adam Dorazil, manager of defence projects of the Tatra Export company, mentioned that the Tatra brand is well known in the Middle East:
"In the past, we delivered more than a thousand Tatra trucks to the United Arab Emirates, we also cooperate with Saudi Arabia, where Tatra trucks are even produced. The Tatras have proven themselves in this region, also thanks to the chassis with a central backbone tube, the concept of which celebrates its centenary this year. So we have a lot to offer to new customers in this region."
The Eldis company presented its entire range of active radars on a model of the airport. Together, these radars form the set RPL-2000, which is designed to provide a complete solution in the field of air traffic control. The RPL-2000 radar set consists of the RL-2000 primary surveillance radar, the MSSR-1 monopulse secondary surveillance radar, and the PAR-E precision approach radar. The set of radars on display at the IDEX fair was complemented by the ERDIS air traffic control software system.
---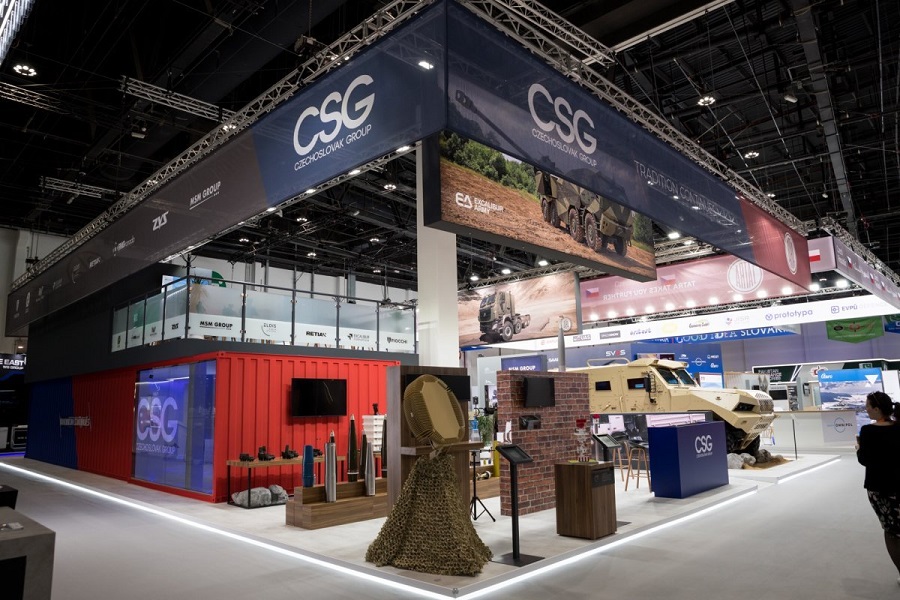 ---
Another exhibitor in the CSG exhibition was Retia company.
"At the IDEX fair this year, we presented the ReCas anti-drone system, which is intended for both civil and military applications and can act against drones using a disruptive soft kill means and also a hard kill tools capable of destroy them. We have incorporated our 3D ReGuard radar into this system, which has the ability to locate and track not only air targets, but also ground targets," explained Jiří Novák, director of Retia's VBS business division.
In addition, the company also boasted a special radar device ReTwis 5, which is able to detect living objects and people behind non-metallic obstacles. With it, she broke through in several important markets, such as the USA.
MSM Group, including several manufacturers, showed the entire range of modern medium and large calibre ammunition.
"We brought to Abu Dhabi a representative cross-section of our portfolio of large calibre ammunition and mortar ammunition. We are suppliers for several customers within NATO countries, and as an important producer of quality ammunition we wanted to introduce ourselves to IDEX, which is the gateway to the Middle Eastern market," said Pavel Čahoj, vice president of MSM Group.
---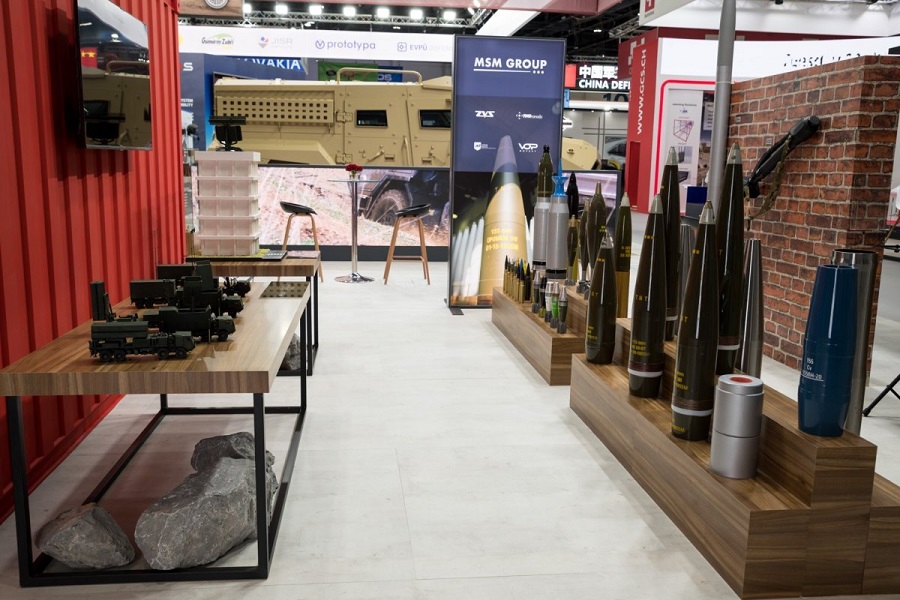 ---
Visitors to the stand could view a range of 60 mm, 81 mm, 98 mm, and 120 mm mortar shells, including the Atmos light mortar, as well as 122 mm rocket ammunition and 155 mm practice artillery ammunition, all produced by VOP Nováky. Spanish manufacturer Fábrica de Municiones de Granada demonstrated 105 mm artillery ammunition and 120 mm and 105 mm tank ammunition or pyrotechnic charges.
The company ZVS, also belonging to the MSM Group, presented 125 mm calibre tank ammunition, 155 mm calibre artillery ammunition, 30 mm calibre light cannon ammunition and ammunition components such as igniters, initiation units, etc.
Jubilee year of the IDEX fair proved that it is an exceptional event in its field, as evidenced by the number of exhibitors and visitors – in 2019, the fair had 1,300 exhibitors, two years later the number of exhibitors exceeded 1,300, while the number of visitors to the fair exceeded 130,000. This year there were over 1,350 exhibitors from 65 countries. (sfr)