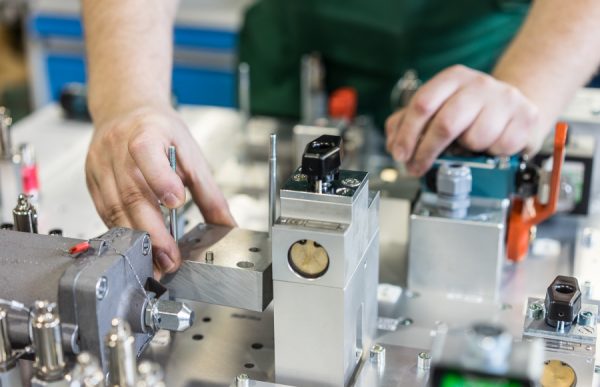 DAKO-CZ exceeded two billion revenues for the first time in its history. It has grown 100 percent over the last four years. DAKO-CZ, a manufacturer of braking systems and components for rolling stock from Třemošnice in Eastern Bohemia (Czech Republic), continues its steep growth. In 2019, it surpassed the billion-dollar turnover mark for the first time and managed to double it in just four years.
In 2022, the company surpassed two billion in sales for the first time in its history. Over the past four years, the company has also grown across regional and national borders, having set up two joint ventures with leading manufacturers in India last year and plans to set up a subsidiary in that market this year.
"We are building a company to a two-billion-dollar turnover on the fly," Lukáš Andrýsek, chairman of the board of DAKO-CZ, liked to say after the company broke the billion-dollar mark. In just four years, the company has already managed to double its sales, despite unfavourable circumstances such as the covid pandemic, disruption of supply chains or the extreme increase in energy prices related to the conflict in Ukraine.
"We did not interrupt production for a single day during the covid, and in 2020 we also built a new central warehouse at full operation, expanded the assembly hall and completely upgraded the logistics flows in production, which allowed us to significantly increase its capacity. All our employees deserve a big thank you for managing to do this in such difficult conditions and keeping production constantly running at full capacity," said Lukáš Andrýsek.
---
---
Development of DAKO-CZ sales
| | | | | | |
| --- | --- | --- | --- | --- | --- |
| Year | 2018 | 2019 | 2020 | 2021 | 2022* |
| Revenues (million CZK) | 927 | 1 144 | 1 269 | 1 556 | 2096 |
---
* for 2022 the value is preliminary unaudited
---
---
In addition, DAKO-CZ gradually grew. First, the company Transelco, which manufactures couplings, adjusters and brake cylinders, was added, followed by the establishment of the subsidiary company DAKO-CZ Service in Most in North Bohemia, where the service and repairs of brake units and components were concentrated.
In 2021, another subsidiary, DAKO-CZ Machinery, was established in Ostrava to focus on series production, mainly for India. Orders for that market today account for about a third of the company's turnover.
"In 2022, our expansion continued. In India, we established MEDHA DAKO-CZ Pvt. Ltd., together with Medha Servo Drives, a key player on the market there, with headquarters in Hyderabad. Our cooperation is focused on the supply of complete and modern braking systems for the newly prepared EMU, metro and locomotive cars for the Indian Railways. With Jupiter Wagons, number two in truck manufacturing market, we established JWL DAKO-CZ India Ltd, which is based in Kolkata. The Indian activities will be covered by the newly formed subsidiary DAKO-CZ India," said Lukáš Andrýsek.
The company, which exports three-quarters of its production, is also set for further growth in Europe, Africa and South America, where a completely new braking system will be implemented in the Automated People Mover project. This special train will be operated at Brazil's São Paulo International Airport. The company has one more big goal in the next few years and that is to reach out to the North American market.
"Above all, however, in addition to investing in production expansion and modern technologies, we massively support research and development. As a result, our company is setting trends in the industry, particularly in the environmentally friendly and maintenance-free design of our braking systems and components. For example, last year at the prestigious InnoTrans trade fair in Berlin we presented a revolutionary electromechanical disc brake unit, which is part of our DAKO Brake By Wire concept. Its principle is that neither compressed air nor oil management is needed to stop trains," adds Lukáš Andrýsek.
The success of DAKO-CZ does not go unnoticed. In 2021, the company was declared the Company of the Year of the Pardubice Region and was among the top five companies in the national final. Last year, it was awarded the Czech Superbrands 2022 award. All indications are that the company, which is 100% owned by Czechoslovak Group, the industrial-technology group of Czech entrepreneur Michal Strnad, and which today forms the basis of a separate division of CSG Rail, will continue to grow in the coming years.
---
---
About DAKO-CZ, a.s.
DAKO-CZ is a leading manufacturer of pneumatic, electromechanical and hydraulic braking systems for rail vehicles with 207 years of tradition. The company with annual sales of around 82 million Euro, 79% of which is accounted for by foreign orders, is based in Třemošnice in eastern Bohemia. The company is owned by the Czechoslovak Group of Czech businessman Michal Strnad.
DAKO-CZ supplies braking systems and components for freight wagons and passenger cars, commuter units, locomotives, metro sets and trams. In addition to the Stadler Rail Group, Tatravagónka Poprad, Siemens Mobility, major customers of DAKO-CZ products include Škoda Group a.s. and České Dráhy. Rolling stock with DAKO braking systems or components are operated not only in Europe, but also in China, India, Malaysia, Indonesia, Algeria and Saudi Arabia, where DAKO-CZ cooperates with global rolling stock manufacturers and rail transport operators.
The company has its own development, state-of-the-art testing laboratory and design facility. In addition to the development and production of braking systems and components, DAKO-CZ is also involved in their after-sales service.
In 2020, DAKO-CZ opened a new service center on its premises. Due to order fulfillment, the company expanded the production hall in 2020 and completely innovated the logistics, resulting in a significant increase in production capacity. In 2020, DAKO-CZ started deliveries to a new customer, the Spanish company TALGO, specifically for its sets intended for Egypt.
Other orders went to, for example, Poland, Slovenia, Austria or India. In 2020, DAKO-CZ placed second in the Pardubice Region Company of the Year competition, in 2021 the company already won the competition. In 2022, the company won the prestigious Czech Superbrands award and became part of UNIFE. (sfr)